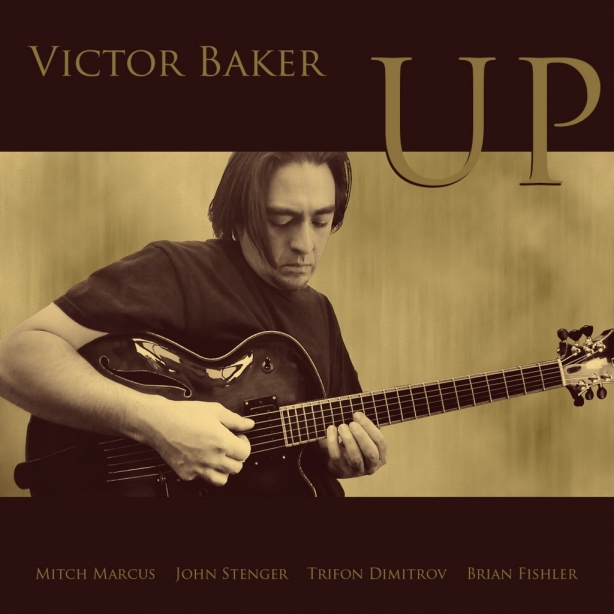 The debut release from guitarist / composer Victor Baker featuring Mitch Marcus (sax), John Stenger (rhodes), Trifon Dimitrov (bass) and Brian Fishler (drums). Memorable modern jazz tunes penned by VB who is also a very highly regarded jazz guitar maker.
Better known for the highly regarded jazz guitars that he makes in his New York City workshop, luthier Victor Baker is also an accomplished guitarist, very prolific modern jazz composer and active performer. A self described life long jazz guitar nut, when he isn't building an instrument he is writing, preparing and playing his original music. His long overdue debut disc is his first official effort at finally documenting the playing side of his career. Stylistically his music is creative modern jazz, and features interesting complex meters and feels but always written as a framework for strong melody, vibe and catchy themes. Vic's playing is fiery at times but he is not a gunslinger player, and prefers to play melodically with strong phrasing and connected lines to better serve the music. The tracks on "Up" document Victor's current band in New York, a fairly recent collaboration of fine players who already have a cohesive sound and energy together. The vibe ranges from driving and intense to very subtle and sublime, with strong performances by all. Already a fine showing, this group's freshman effort peeks and hints at some very exciting things to come.
___________________________________________
Hardcopy CD available at Amazon- click here!
Be sure to download the Liner notes in PDF format
___________________________________________
MP3 Download available direct:
[music_store_product id="1474″]
Please listen through headphones or on a high quality sound system 😉
Problems with cart? Email me
___________________________________________
SAMPLE CLIPS:
1. "First Day" Clip:
2. "Neverend" Clip:
3. "View from the Clouds" Clip: 
4. "A Strange Kind of Symptom" Clip: 
5. "Drifting" Clip: 
6. "Up" Clip: 
7. "All in Your Head" Clip: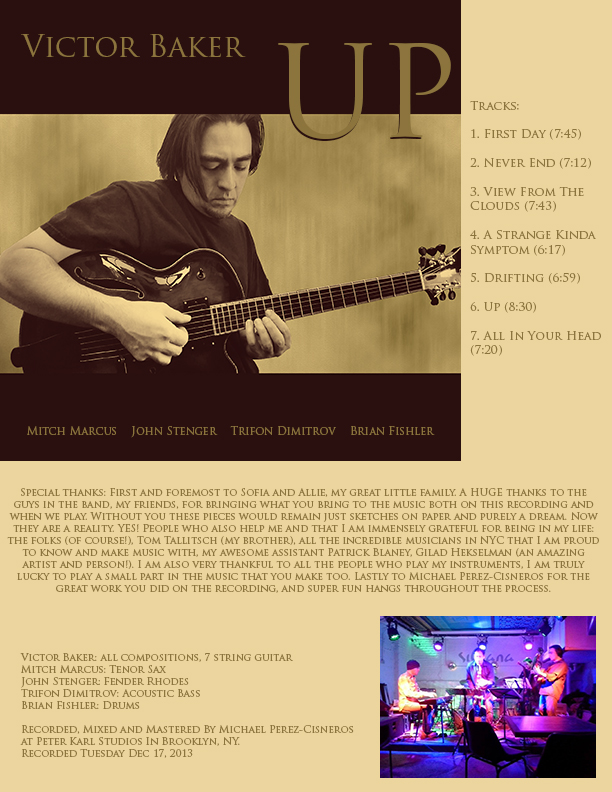 PDF Scores for Victor's music: